KDNA Employees Continue Strike
Posted:
Updated: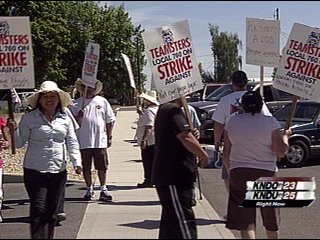 GRANGER--Employees of Spanish-language radio station KDNA are on strike.
It's an ironic turn of events for the Granger station, which was founded as part of the farm worker's movement.
The signs read "KDNA continues. We are open."
The station planned to go on the air Monday morning without most of their staff, but a faulty transmitter has weakened their signal. Executive Director Maria Fernandez said KDNA will be at full broadcasting power by Tuesday.
Workers went on strike Saturday. Fernandez said the station will go on with volunteers running the station, something the strikers hope doesn't happen.
"We wish they wouldn't cross the picket line," Guadalupe Sotelo said. "[They should] support us so we can get the radio station back to work again."
Sotelo and another woman were fired in January. She claism they were let go because they wanted to unionize employees.
"Since then this [controversy] all started," Sotelo said. "Before then nothing had happened."
Fernandez said that is not the case.
"Their termination was about performance," Fernandez said. "It had nothing to do with union activity."
Fernandez said she and KDNA's Board of Directors support their employees.
"There are so many other organizations or businesses that don't treat their workers with as much dignity and respect as we do here," Fernandez said.
But, Fernandez said attempts to negotiate aren't going anywhere.
"On our side, we know that we're putting forward good faith," she said. "On the side of the union, we're just not so sure anymore."
Workers do hope to get a new contract, but they say they won't go back to work until Sotelo gets what she wants.
"I want my job back," Sotelo said. "I really enjoyed my job and I know how to do it, I did it well."
Both sides hope for a resolution soon, but until one side budges, that may not happen.
The National Labor Relations Board is reviewing unfair labor practice charges filed by employees against the radio station. Union representatives aren't sure when the NLRB will rule on those cases.