The Disabled are Struggling to Find Work
Posted:
Updated: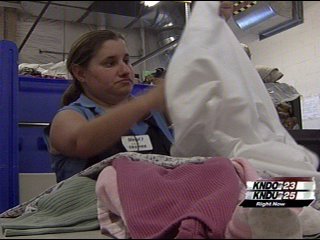 KENNEWICK, Wash. - In today's difficult job market, people are having a tough time finding work. Adding a disability on your resume can make a job search even harder.
Columbia Industries in Kennewick trains disabled workers to enter the workforce. But right now, they've hit their max and can't admit more clients, leaving many of our disabled without the training they need to find a job.
Rachel Alongi is one of the many disabled workers Columbia Industries is training to enter the workforce. She helps sort clothes and place them on the store floor. But there's a waiting list of disabled workers wanting to take Rachel's place once she finishes the Employment Training Program at C.I. and finds a job.
"I'm ready to take on the real world outside of Columbia Industries and see what it's like," said Alongi.
But Rachel could soon be heading for what some say is rough job search.
Tamah Ruth is Columbia Industries Business Division Manager. Her job is to find employment for Columbia Industries disabled workers, a task proving to be far from easy.
"We're facing the stereotypes and stigmatisms of working with people with disabilities and employers not comfortable hiring," said Ruth.
The Bureau of Labor Statistics reports a 13% unemployment rate for the disabled, compared to 8.4% for those without disabilities.
Rachel Alongi is hoping to beat those odds. "All I'm trying to do is work you know. Get that money and make a living out on my own," said Alongi.
Goodwill is experiencing the same difficulties with their disabled clients.
The state has also cut funding for some of these programs making it even more difficult to afford to train new clients.