Construction Ceased at Cottonwood Springs Mansion
Posted:
Updated: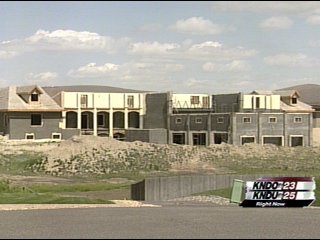 KENNEWICK, Wash-- A Kennewick family is struggling with the loss of their father. They're also dealing his unfinished dream home.

About a month ago, Thayne Wiser tragically passed away. He owned the land that's now the Cottonwood Springs neighborhood. Besides leaving behind his wife and six adult sons he was building one of the largest homes in the Tri-Cities. His family didn't want to go on camera, they say they want privacy, but tell KNDU they aren't sure what they'll do with the house.

The home is 22,000 square feet and is surrounded by beautiful hills, but construction has seized after he died of a heart attack about a month ago.
They aren't the only family in this situation and realtors say it's not uncommon.
"This particular house in Cottonwood Springs is the 3rd house with a death situation at a new construction home that I've been involved with in the last three months," said Aaron Johnson, Desert Hills Realty.
The Wiser family says they are keeping they're options open for what they will do with the house. Some mortgage brokers say the lending process for homes like this is much more complicated than the average home in the Tri-Cities.
"The problem is going to be finding comparable homes in our area that have sold at that value. I mean how many homes in the area have sold like that," said Jim Pogue, Desert Canyon Mortgage.
Most lenders will want 20 to 30 percent down on a million dollar home and realtors say with the housing market much lower than it was in years past and you can find some good deals.
"A million plus homes just don't move here very well and they are going for considerably less than they would have gone for two or three years ago," said Johnson.