Homeless are Found Living in Kennewick Storage Units
Posted:
Updated: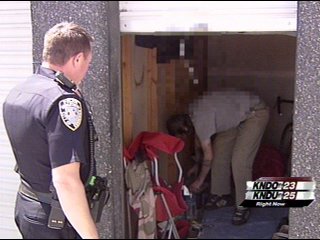 KENNEWICK, Wash. - Police discover people living in a storage unit in Kennewick.
Police said they found 3 men and 1 woman living at Classic Mini Storage of Clearwater Avenue. Police said people will pay rent for a storage unit and call it home. They said it's rare in the Tri-Cities but not hard to find.
"You'll find when people don't have anywhere else to stay they'll be creative and they'll find places like this that they can rent for $100.00 to $150.00 a month," said Captain Joe Terpening with Kennewick Fire Department.
Tuesday, KNDU was on scene when Terpening along with Officer Tony Valdez with the Kennewick Police Department checked the locks of the storage units at Classic Mini Storage but everything seemed to be secure. That is, until they noticed a door slightly open. Valdez opened the door to find another man, possibly in his twenties, living one of the units. They found items like a sleeping bag, a pillow, shoes and food inside. It looked as if the man had been living there for some time.
Experts at Benton Franklin Community Action Committee said this is a situation that can be avoided.
"We do want them to know there are services available for them that they don't have to live in storage units, said Judith Gidley with Benton Franklin Community Action Committee.
But until the homeless start searching for help on their own, police said they'll continue to find other ways to survive.
The owner of Classic Mini Storage said he does not permit people to live in the storage units. Police said this isn't the only facility in town that has this problem.