Whitman College Baseball Coach Resigns to Take Division I Coaching Position at Seattle University
Posted:
Updated: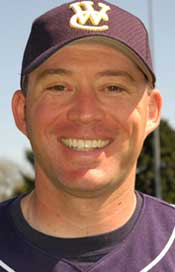 WALLA WALLA, Wash. -- Whitman College baseball coach Casey Powell has resigned after seven seasons to take a coaching position at NCAA Division I Seattle University.

Powell, 34, begins work July 1 as an assistant coach at Seattle, which is restarting its baseball program after a 25-year hiatus. Powell joins a coaching staff led by head coach Donny Harrel.

"From a professional standpoint, this is a move I have to make," Powell says. "The opportunity to coach at the Division I level is a huge factor. For me personally, the chance to work again with Coach Harrel is also very important."

Powell was one of Harrel's assistant coaches with the Bend Elks, a collegiate summer team, during the summers of 2000 and 2001. "We hit it off, right from the start, and we've stayed friends ever since," Powell says. "Our wives and kids are friends as well. We've talked at times about how much fun it would be to coach together again."

Whitman, which is affiliated with NCAA Division III and competes as part of the Northwest Conference, has started a national search for Powell's replacement.

"This is a wonderful opportunity for Casey and his family," Whitman Athletics Director Dean Snider says. "Casey has served our department exceedingly well. He works tremendously hard and has never shied away from helping his coaching collegues and giving his time to department concerns and projects.

"Casey is very highly regarded in the baseball world, which is clearly evidenced by the new position he was offered at Seattle University," Snider adds. "We wish him well in his new coaching venture."

A 1997 graduate of Linfield College in McMinnville, Ore., Powell came to Whitman in 2003 after four seasons as an assistant coach at his alma mater. A native of Bend, Ore., Powell was named NWC Player of the Year during his junior season at Linfield. A second baseman, he hit .405 that season while stealing 17 bases in 22 attempts. As a senior, he earned All-NWC First-Team honors for a second straight season after he hit .397 in a lead-off role.

Powell will join a Seattle staff that also includes pitching coach Dave Wainhouse, a former major league pitcher who spent time in the Seattle Mariners organization.

As part of his duties at Seattle University, Powell will work with middle infielders on their defensive skills and assist with hitting drills, particularly those related to bunting and "small-ball" offensive tactics. He will also serve as recruiting coordinator for the baseball team and as an academic liaison with the athletic department.

In returning to the baseball diamond next spring, Seattle will play a 56-game schedule as an NCAA Division I independent.

Powell and wife Jennifer have two daughters. Morgan celebrates her fourth birthday this Friday while younger sister Cailyn turns one in early July.