Ben Franklin Transit Gets More Federal Money
Posted:
Updated: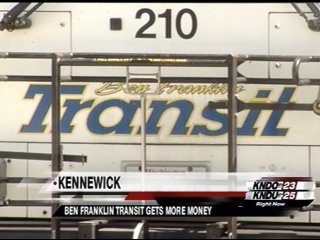 KENNEWICK, Wash. - Ben Franklin Transit has received another $2.7 million in federal grants and not everybody is happy about it. Some feel the money is going to an already over-funded transit system.
Anna Bopp, President of the National Alliance of Mental Illness local affiliate, said health organizations in the Tri-Cities are terribly under-funded and the transit system is receiving more than it's fair share.
But she doesn't want to be seen as someone against transit. On the contrary, Bopp has been a faithful bus rider for the past 16 years. She said she recently bought bus tickets for her grandchildren and wishes others would ride the bus more often. But she believes BFT is run inefficiently and needs to find ways to cut back.
"I'm all for looking at transit, making it as cost efficient as possible and then the excess going to much needed programs," Anna Bopp, NAMI Local Affiliate President.
Ben Franklin Transit leaders said the funds they're receiving from the government are restricted, and if they didn't agree to take the money, it would have just been spent at another transit system in Washington. They want to keep the money and use it to benefit the local economy.
"We've been required to spend it on capital projects. It has to go for construction of facilities or for major equipment like buses, said Kathy McMullen, Service Manager for Ben Franklin Transit.
Ben Franklin Transit leaders said they have evaluated the budget and have already cut back as much as they can. But others argue it's not enough.
The additional money comes from the American Recovery and Reinvestment Act of 2009, signed into law by President Barack Obama. It includes $8.4 billion for transit capital improvements.