IKE Student Recovering After Weeks in the Intensive Care Unit
Posted:
Updated: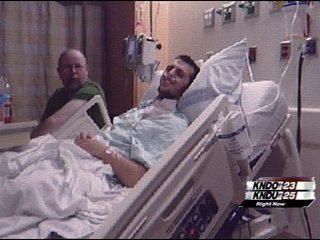 YAKIMA, Wash.- A senior track star at Eisenhower High School spent weeks on life support. The runner is now hoping he'll be able to walk in time for graduation.
Jacob Moore was an ordinary student at Eisenhower and a member of the track team. His life quickly changed. On May first he got a severe sore throat and other flu like symptoms.
"He took some time off from practice and school and then of course that's when this thing showed up suddenly and it was a huge surprise," said Phil English, Eisenhower teacher and track coach.
On Mother's Day, Jacob was incubated and airlifted to Harborview Hospital in Seattle. He was checked into the Intensive Care Unit.
"It was a hard day. A week ago, he was running intervals and everything was fine. Now we were on our way to Seattle to see how sick he really was," said Lewis Moore, Jacob's father.
Jacob was diagnosed with LeMierre's Syndrome, a rare throat disease.
Jacob was barely surviving, depending on life support. For a few days, he stayed in a specialized bed that automatically turned him, helping oxygen flow throughout his body. His immune system was so weak he couldn't walk.
Jacob's family has been blogging about his condition on his website, constantly updating friends with information.
Businesses like Cottage Espresso have been raising money for Jacob and those close to him have been sending him messages. His family says this has made all the difference.
"We've gotten messages from as far as South Africa that people are praying for him and we believe it's a big part of his miraculous recovery," said Lewis Moore.
Jacob is starting to walk again and regain strength. His family plans to leave the hospital Friday morning and get back to Yakima sometime this weekend.
Jacob says his goal is to walk by graduation on June 4th.
If you'd like to leave Jacob a message or see the latest update you can go to his website,
www.caringbridge.org/visit/jacobmoore19
.