Keeping Zebra Mussels From Local Waters
Posted:
Updated: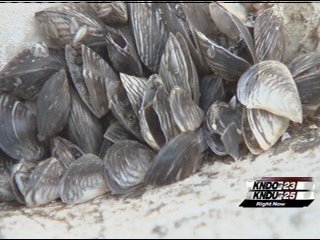 PASCO, Wash-- As boaters gear up for Memorial Day weekend on the water, the Department of Fish and Wildlife is gearing up for extra patrols.
"Memorial Day weekend, it's kind of the unofficial start of the boating season, so we'll be out in full force basically maximizing boating inspection at ramps on the water as people put in and take our their vessel," says Sergeant Jim Nelson with Fish and Wildlife.
Their target is out of state boats that could be carrying zebra mussels. These small clam-look-a-likes latch on to anything in the water, and can cause some big-time damage.
"The biggest financial cost is they ruin water ways, anything associated with the water," adds Nelson. "Irrigations, pumps, diversions. Our hydro electric dam up the Snake and Columbia River would be devastating because they clog up intakes, outlets, anything in the water, literally."
The extra patrols come days after a boat infested with the mussels had to be decontaminated in Spokane. But even as these tiny creatures continue to flex their muscles, they haven't reached local irrigation canals.
"We have not had a problem with the zebra mussels in the Kennewick Irrigation District," says Beth Smith of K.I.D.
But the city is playing it safe and has a plan B.
"There's a chemical that we can use and they recommend using non-stick pipes on the interior of the pipes," adds Smith.
For now, the state isn't housing any zebra mussels, and Fish and Wildlife are hoping to keep it that way.