Microsoft Presents The Latino Expo in Kennewick on May 31st
Posted:
Updated: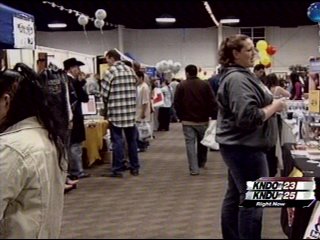 KENNEWICK, Wash.-- Right now it's all about the finishing touches for this year's Latino Business, Consumer, and Career Expo.
Last year the event brought in nearly 8,000 people. This year:
"10,000 is our goal," said Blanca Torres, with Expo Northwest
Microsoft is the title sponsor of the 2009 event and all 130 booths are rented out.
"The Latino community is not just about Cinco de Mayo and Fiestas Patrias, it's a lot more, it's about business and it's the message that Latinos understand business," Torres.
Latinos like Luis Garza, a small business owner, Garza says last year the Expo helped him get nearly 800 people to sign up at his booth. A boost for his insurance business.
"We do want to be the market of choice and this gives an opportunity to not only be the market of choice but be the choice of the Latino market," Luis Garza, State Farm Insurance Agent.
If you're not Latino, 'no hay problema', if you show up you can still network and get in the drawing to win a Jaguar. You also have the chance to meet Henry Cejudo, a wrestling Olympic Gold medalist.
Last but not least organizers say in this tough economy if you have a resume, don't leave it at home.
"They're looking for not only bilingual staff but Latino staff that understands culture, that understands traditions," said Torres.
The Expo this year will be on Sunday May 31st, from noon until 6:00 p.m. It'll be at the Three Rivers Convention Center in Kennewick. The event is free to the public.