Tri-Cities Veteran Writes Songs For Soldiers
Posted:
Updated: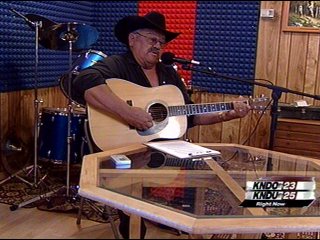 KENNEWICK, Wash.-- Inspired by true soldier stories and put to song.
"I want to touch people with my music and I can do that I've got a lot of songs that have brought a lot of tears, and touched a lot of hearts," said Roy Ammann, a Tri-Cities Veteran who writes songs.
His song Angels in the Battle Zone has become a popular anthem for many, who like Rose Marton have a loved one at war.
"That song is very touching, I hope that all boys and girls have an angel watching over them," said Marton.
Roy says he wrote the song inspired by the story of a Kennewick World War II Veteran. He also says more sound effects were added before the song was put on a cd. A cd hat made its way to the hands of the staff at ACES.
"I came home and took them about 10 cd's of that song, and that's how me and the aces people became connected," said Ammann.
At a service on Memorial Day, another local vet says he's heard Roy's songs, and more than workds, the lyrics play a special role.
"Helps the veteran heal, I think it brings what they feel to the front, helps them understand that they are recognized and appreciated, that other people feel the same pain that they feel," said Bill Rupp, a Veteran in Tri-Cities.
For Roy it's not the pain, but the joy he brings to the hearts of those he writes for.
"I'm proud to be a veteran and a soldier for the usa as that last verse on the song says, and I hope people enjoy it," said Ammann.