YV Tech Students Prepare for National Competition
Posted:
Updated: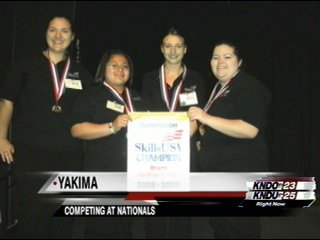 YAKIMA, Wash-- Some Yakima Valley Technical School students are going beyond the classroom to get a leg-up on the competition.
At YV Tech high school students get hands-on experience in their chosen profession. This year a group of students will be competing at the national level at a Skills USA Competition.
Devin Schlotman is training to be a firefighter, he's one of seven students who took first place at the Skills USA state competition. Devin wanted to see how he stacked-up against his peers.
"In the end a lot of those kids that I'm competing against could be competing for that same job that I'm applying for," said Schlotman.
Also heading to the next level, an aviation student, a carpentry student and four nursing students. Tuesday the nursing students took a test to prepare them for state licensing.

The four nursing students will be competing in the Health Knowledge Bowl at the national level Kansas City. That means extra hours getting ready and lots of studying
This experience will help give the students a leg-up when it comes to applying for college or employment.
"It does set you apart from the normal student, it's a lot of extra effort," said Laura Congleton, instructor, YV Tech.
To fund raise for their trip the YV Tech students have built a playhouse and a shed that they're raffling. The nursing students have sent out a letter to the medical community asking for support. If you'd like to support the students contact YV Tech at 573-5000.