Enhanced IDs Comply With New Law
Posted:
Updated: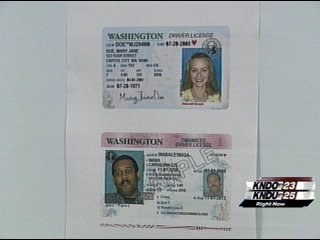 KENNEWICK, Wash.-- In less than a week, travelers will have to have new identification to enter or re-enter the United States. This new law takes effect June 1 and requires everyone to have a passport or approved document to enter the U.S. by land or sea.
An enhanced ID is one of the approved forms of ID under this new law. There are many differences between a regular ID and an enhanced one. For example, the pictures are on different sides, there's a flag denoting citizenship on the enhanced version, and different barcodes.
The Kennewick Department of Licensing has been busy the past few months with people lining up to get these. There are only 14 offices in Washington that issue the enhanced IDs. Bronte Paski drove all the way from Moses Lake to get one. He says, "I'm a truck driver and need to go through Canada all the time so it's for my benefit. Basically, just a passport is more expensive and takes longer, and this is cheaper."
The enhanced ID also protects your identity and has another special feature. Department of Licensing District Manager Pamela Byrd explains, "One of the things we do with the enhanced document is a biometric match, a facial comparison of your face to all the other faces in the database."

Washington is one of only four states to offer these new IDs. They cost just $15 extra.