More Than 400 Dogs Seized from Kennewick Home
Posted:
Updated: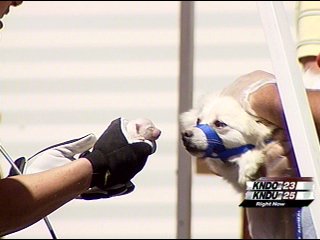 KENNEWICK, Wash.-- More than 400 dogs were seized from a Kennewick home Wednesday. This started about two weeks ago when Ella Stewart was arrested for second degree animal cruelty after Benton County Deputies found all of the dogs.
The dogs were found on property on the 500 block of East 27th Avenue in Kennewick. They're American Eskimo dogs of all ages, even some newborns.
Monday, the dogs are being taken out one by one and checked by veterinarians. Last week we reported that there were around 300 dogs, but now, deputies are estimating there are at least 400. This whole case started earlier this month when Deputies searched the property and saw the dogs in what they call "deplorable living conditions." They say the dogs belong to Stewart, who was arrested on one charge of second degree animal cruelty about 2 weeks ago, and is not in custody right now.
Monday was the first time the Sheriff's Department and animal rescue organizations could coordinate resources. Benton County Sheriff Larry Taylor says the dogs' conditions are not good. He explains, "The medical condition of the dogs, all will require some level of medical attention, some extensive treatment. All dogs will also require extensive cleansing."
Inga Gibson, State Director of the Human Society of the U.S., says the property is disgusting. She says, "They're all kept in unacceptable conditions, shopping carts and just about every nook and cranny on the property."

The dogs will be kept at the Benton County Fairgrounds until further notice.
Stewart's next court date is June 10. There's no word yet on additional charges she will face.
There is a big need for local veterinarian's to donate their time. If you want to donate: Call the Sheriff's Office at 735-6555 ext: 5. If you want to donate money directly to the dogs for food and care, you can send a check to the Sheriff's Office. Make it out to: Benton Co. Treasurer.