371 Rescued Dogs Now at Benton County Fairgrounds
Posted:
Updated: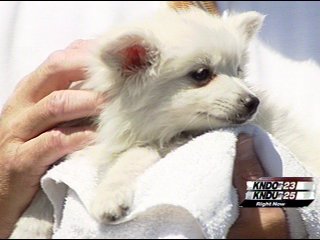 KENNEWICK, Wash.-- All 371 dogs will be at the Benton County Fairgrounds for a few more days.
Sheriff Larry Taylor says an animal shelter is needed in the county. Commissioners are still talking about where it would open.
Ella Stewart has been charged with second degree animal cruelty and could face more charges.
Staff at the Human Society of the United States say it's more than three decades of animal cruelty coming to an end. Now the county says these American Eskimos are no longer owned by Ella Stewart.
"Ella Stewart along with her attorney have formally relinquished all legal control and authority and ownership of these dogs to the Benton county sheriff's office," said Sheriff Larry Taylor, in Benton County.
All the food, supplies, and cages have been donated by PetSmart. All other transportation costs of over $100,000, have been covered by the US Humane Society and not by the county.
"We look forward to continuing to assess these animals over the next few days in preparation for getting them out and finally into the loving homes they deserve," said Inga Gibson, with the US Humane Society.
Gibson says none of the dogs are ready for adoption. The Sheriff's office admits they've been called out to the puppy mill before but were unable to do anything for several reasons.
"There were no limits on the number of dogs she could have," said Taylor.
"It didn't reach the level where we could actually get a search warrant on the property and an order from the court to seize the dogs," said Taylor.
Now the Governor has signed a law to limit the number of dogs a person can breed. But could this have been prevented?
"Should she have been charged with animal cruelty two years ago? Maybe she should have," said Taylor.
The US Humane Society says last week was the first time the county had ever called them about this particular case.
Volunteers are not needed right now. If you'd like to help you can send a check to the Benton County Sheriff's Office for food and other supplies. Checks can be made to the Benton County Treasurer.
If you're interested in adopting any of these dogs you'll have to wait until the Humane Society of the United States can put them in a shelter first.
The list of shelters should be available in just a few days, on their web site. For a link go to the On-Air Links Section of this web site.