Yakima Family YMCA Maintains Principles for Over 100 Years
Posted:
Updated: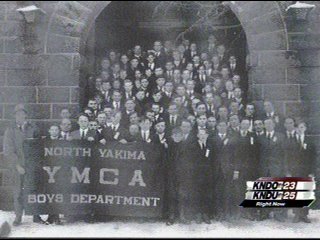 YAKIMA, Wash-- The year before KNDO opened, the Yakima Family YMCA moved into the new downtown building. Over the past 50 years both companies have seen a lot of change.
From racket ball to weight lifting, you can join the YMCA to stay physically fit. But, that's a small portion of the 'Y's' mission. Adult gym memberships just pay the bills.
"About 60% of the money expense side goes towards youth activities," said Ollie Nelson.
Ollie Nelson and Jim Dwinell are long-time supporters of the YMCA. Reminiscing over old pictures, they've seen growth and change.

YMCA may stand for Young Men's Christian Association, but really it's much more.
"We're not young anymore, and we're not [just] men and we do have Christian principals, but actually one of our directors is a practicing Jew. So we're inclusive in everything we do at the 'Y' and that's intentional," said Dwinell, president, YMCA Board of Directors.
The new YMCA building was dedicated in November of 1958. It has since doubled in size with the Robertson addition. Membership was extended to women. Activities for youth have expanded, including several mentor programs.
Nelson and Dwinell said that while programing, staff, and the building may change the key principles remain the same.
"The 'Y' builds character, kids strong kids, strong communities, strong families and as long as we keep that in mind we're good for another 50 years," said Nelson.