Neighbors Writing Letters Asking For More Charges on Kennewick Puppy Mill
Posted:
Updated: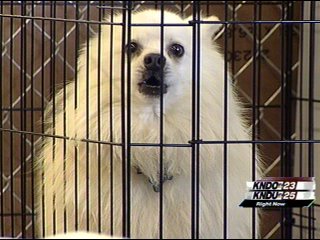 KENNEWICK, Wash.-- Neighbors say it didn't take much for anyone driving by Ella Stewart's home to see hundreds of dogs living in poor conditions.
"You almost wanted to take the back roads, just so you didn't have to drive by and see them everyday," said Courtney Turner, a neighbor.
371 of them were rescued just two days ago from the mill, but walking there today we found one more.
Staff from the Humane Society of the United States say they are aware of a few left behind and are working on bringing them in.
"I can't imagine treating a dog like that, and there it was going on to close to 400 animals," said Lisa Mcquilliams, another neighbor.
So far Stewart faces one count of second degree animal cruelty, a misdemeanor, with a maximum penalty of 90 days in jail and up to a $1,000 in fines.
"After you see it evryday and you're around it, and you're aware of the problem and you're aware of how mnay people have actually called and complained, and the amount of years it's been going on, no I don't think that's long enough at all," said Mcquilliams.
After some calls to prosecuting attorney Christine Bennett, these neighbors are taking action.
"The best for people to do is to write letters to her saying what they've witnessed and if they've called the sheriff's office, and any of the abuse they've seen," said Turner.
Bennett says Stewart could get additional counts for every dog that suffered and also more jail time.
At the Benton County Fairgrounds on Friday there were about 115 empty cages. Since some of the dogs have already been taken to shelters in Spokane and Walla Walla.
Still more than two hundred are waiting to find a new home.
"I hope she's not allowed to ever own another pet," said Mcquilliams.
The Prosecutor says letters should be mailed to her office only if you are a neighbor, or actually witnessed any abuse. Blue Mountain Shleter in Walla Walla, says the dogs are still not ready for adoption and won't be until all their physical needs are taken care of.
The count was up to 373 dogs as of Friday afternoon. Some dogs have been taken to a few shelters in Spokane, including the Spokane Humane Society, and Spokane Animal Care.
Staff from the Human Society of the United States say anyone interested in adopting should contact the shelters. But please be aware that the dogs may not be ready for adoption for at least another week.
Check the On-Air Links Section of this web site for a link to the Humane Society's site. Staff at HSUS say a full list of shelters could be posted next week.