Tri-Cities Only Children's Psychiatric Unit is Closing
Posted:
Updated: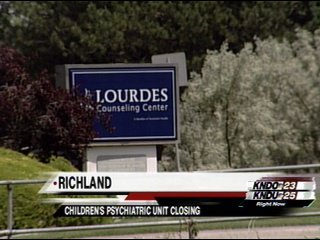 RICHLAND, Wash-- The only children's psychiatric unit in the Tri-Cities will soon be closing its doors. The locked unit at Lourdes Counseling Center in Richland has 10 beds and a 24-hour staff.

Staff at Lourdes Health Network say this decision came after a year of reviewing how children in our community would receive alternative care without the unit.
Currently, the average number of patients is five and only three of those are from Benton or Franklin County. For years the children's psychiatric unit has treated patients who could be a danger to themselves or the public.
"They're severely disturbed children and adolescence. They may have suffered from a prolonged period of abuse or neglect. They have significant psychiatric illnesses," said Barbara Mead, Executive Director of the Counseling Center.
The unit used to see upwards to ten children at a time. Now staff say out-patient care has improved so much that the number of patients has decreased dramatically, but Lourdes still did not want to close.
"Lourdes had made the decision to keep our unit open as long as we possibly could to insure that the outpatient services were there to help take care of these children and we made this decision when we felt the time was right," said Melanie Johnston, Public Relations at Lourdes.

Staff say that decreases in the total number of beds across the state are stemming from funding cuts for mental health.

"Money is always a part of making some decisions about growing or decreasing the service," said Mead.
The counseling center is among the lowest paid psychiatric centers in the State of Washington but they say closing is not something they ever wanted to happen.
"This is not the ideal situation for families or the children but that's a decision we had to come to again after a very long discernment," said Mead.

The unit will be closed on July 31st. Children under 18 that need emergency psychiatric treatment will have to go to Yakima or Spokane. This may affect six employees, but they hope to transfer them within their health network.