Yakima Neighbors Fear Aggressive Dog Next Door
Posted:
Updated: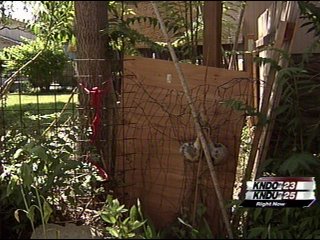 YAKIMA, Wash.- People living off Summitview Avenue say they've been terrorized by a neighborhood dog and want some kind of action taken.
Neighbors say the dog on the other side constantly rips through the fence and with so many elderly people living just feet away neighbors say this is a safety issue.
For many elderly people living on North 37th avenue, barking is an alarming sound and often keeps many of them indoors.
"I'm afraid this dog is going to end up seriously injuring her, my mother" said Lucio Martinez Jr.
Martinez visits his 90-year-old mother frequently and says he always sees the dog next door outside his mothers apartment.
"That happens almost everyday, two or three days ago I saw him jump the fence and walk around like it was nothing," said Martinez.
When I showed up the owner took the dog inside. Neighbors say the dog is a mixed shepherd breed and constantly rips through his fence.
"He came running this way, jumped over this fence and came running and charging at me," said Martinez.
Martinez says he's worried that his mother, who has arthritis and high blood pressure, won't be able to fend for herself the next time the dog gets loose.
"She's scared to be outside, sit down get fresh air and be near her garden because she's scared this dog is going to attack her," said Martinez.
Martinez says the dog already tore through his mother's screen door. This is why he called animal control, to see if the dog could be taken away.
"We haven't actually been able to see dog running loose its just 15 minutes or so after we get call and he is already contained," said Ben Zigan, an animal control officer with Yakima County.
Animal control officers say they can only take dogs running loose. There is a leash rule that requires all dog owners to keep their dogs contained on their own property, either with a leash or a fence. As long as dogs stay on their property, animal control officers say there is nothing they can do.