Adoption Process for Rescued Dogs From Kennewick Puppy Mill Could Be Lengthy
Posted:
Updated: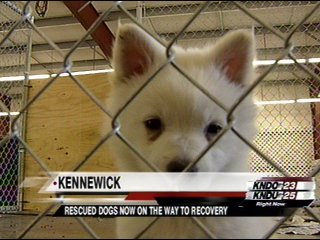 KENNEWICK, Wash.-- At the Benton County Fairgrounds on Monday, there were still a few dogs remaining from the almost 400 dogs rescued from a Kennewick puppy mill.
Around noon a few members from the Humane Society of the United States were still there trying to get things back to normal.
"We're just doing tear down and clean up, leaving the facility in as good condition as we found it," said Melissa Forberg.
The few dogs left will be housed at the Benton Franklin Humane Society. The same goes for a handful of dogs at Coleman Animal Health Center in Pasco.
Nine puppies there were just born and a few moms have had surgeries for an infected uterus.
"It's going to take approximately 14 days to recover for those incisions to heal, for them to be adopted out," said Dr. Todd Coleman, with Coleman Animal Health Center.
Doctor Coleman says many of them also have severe dental problems. One dog at Coleman Animal Health Center has only has three teeth left. Almost all of them have also now been rid of fleas.
"It's hard to say how many are truly aggressive because of that fear factor that's in there, they lash out at anyone because they're so scared, they don't know what else to do, they think they're going to get harmed," said Dr. Coleman.
But while some may be fearful, full recovery is just a matter of time.
"They need to go into someone who is more experienced who can give them that basic training before they can go on to become family animals, but I believe all these animals are highly adoptable," said Forberg.
Staff at Coleman Animal Health Center say the puppies and new borns are likely to adapt faster to a family environment. Members of the Humane Society of the United States say these dogs will be safe to adopt, but it will take some time and special attention.