First Hanford Recovery Act Workers Ready to Work on the Site
Posted:
Updated: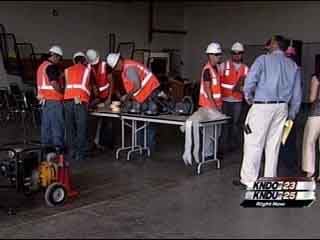 RICHLAND, Wash-- The first workers hired by the Hanford stimulus money are trained and ready to go to work. About 100 workers are graduating into the workforce after five weeks of training at HAMMER.

This is the last day for many new hires training at HAMMER, tomorrow some of them will be in the 100 area of the site helping to speed up the clean up process.

KNDU got an inside look at how contractors, the unions and the Department of Energy have come together to get more workers trained at one time than they ever have before.

For the past three years 20 year old, Vanessa Simons has been working at Starbucks, now she's among more than 300 people hired by Recovery Act money to work for CH2M Hill Plateau Remediation Company.
"I live in the Tri-Cities, I worked for Starbucks, I was sheltered, but throw me out here. I get to see so much, I get to do different things that I wouldn't have gotten to if I stayed working at Starbucks," said Simons.
Her pink hard hat comes from really the only experience she has in this line of work helping build homes for Habitat for Humanity
"It's kind of crazy, I get teased for being the girly girl. I have the pink hard hat and everyone's like I can't believe you wear a pink hard hat. I'm going to stand out," said Simons.
The new workers are learning everything from running power tools to packaging a waste container. Many experienced workers are at HAMMER training them six days a week, twelve hours a day.
"I am a worker out on the site so we are out in the field. We are hands on experience, teaching them secrets of the trade, so we can pass it on to them so they don't have to go through the long learning curve as others have," said Paul Phillis, D&D Worker, CH2M Hill Plateau Remediation.

About 30 percent of the new workers were unemployed and many are coming from all over the Northwest.
"It's a good thing to see people working a lot of people were unemployed, a lot of people are learning a new profession," said Phillis.
CH2M Hill Plateau Remediation Company increased its workforce by 30 percent since receiving more than a billion dollars in recovery act money.
It's not too late to apply; contractors at Hanford say they are still hiring more workers.