Davis High School Grads Ready For Next Step
Posted:
Updated: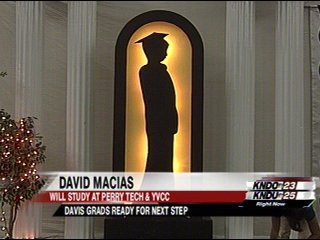 YAKIMA--Getting ready for life after high school. A couple thousand students throughout the Yakima Valley graduate in the next week, starting with Davis High School's Class of 2009 on Wednesday.
High school might be over, but most of Davis' 296 graduates will be back to school in the fall: a Davis counselor said 75 percent of the Class of 2009 plans to go to a two-or-four-year college.
Some students, like David Macias, have a plan.
"I plan on going to Perry Tech for instrumentations and then at the same time go to YVCC to get my AA [Associate's Degree] in science," Macias said. "I want a career for the long run."
He hopes to find work calibrating machines. Other students haven't thought things out as much.
"I honestly don't know yet," Landesha Rodriguez, who's going to Central Washington University this fall, said. "I'm going to explore my first few years, so hopefully I figure it out."
"I'm trying to explore something new and just meet new people," Yanet Pena, who's been accepted to Pierce College, said.
Statistics from the National Center for Education show that less than 50 percent of college freshman end up getting degrees, so not everyone will make it.
Santos Larios is one of a handful of growing local group heading to the military. Recruiting in the Yakima Valley is up 50 percent.
Larios is getting a $20,000 bonus for signing on. Plus, the Army will pay for college after he serves.
Eventually, he wants to be a police officer.
"My whole senior project was based on exploring a career in law enforcement," Larios said. "I know that being in the military will give me first hand experience."
These grads will need support to make it through college. One student said she sees motivation to stay in school every day.
"Because I have a lot of family members who haven't gone to school and they're stuck with really hard jobs that don't pay a lot and I want a steady job."
326 Ike students graduate Thursday, followed up by West Valley and East Valley over the weekend.