CWU Grads-to-be Prepare to Jump into the Job Market
Posted:
Updated: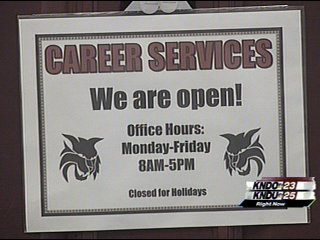 ELLENSBURG--This year's college grads face one of the toughest job markets in years. They're not just competing against each other, they're also battling people who have been laid off and grads from last year who are still searching for a job.
So, how can this year's graduates get ahead?
One place for Central Washington University students to go is the Career Services Department. But, despite the tough economy, advisers say they have less students coming in for help.
Sara Messing is works at the smoothie bar in the Student Union & Recreation Building. Graduation is just a few weeks away and she needs a new job.
She has an unpaid internship for the summer. During her search, she found the market for free employees has dried up too.
"A lot of companies aren't doing internships this summer," Messing said. "They don't have the work to hire students for."
Messing found her internship on Craigs List, without help from CWU's Career Services. That's the kind of initiative Career Services Director Jaqualyn Johnson wants all job seekers to have.
"They need to be proactive," Johnson said. "They need to get the attention of the employer."
With one survey showing that fewer than 18 percent of students land jobs by graduation, Johnson said they must be more aggressive. Don't hold out for the perfect job.
"The fact that you'll get professional experience of some kind can lead you into all sorts of directions that you may not have considered," Johnson said.
Johnson also calls networking crucial, not just applying for jobs but making contacts as well.
Messing's been getting her name in the door even though her internship's lined up, and she won't stop now.
"Throughout my whole internship I'm just going to keep applying to jobs and see what happens," Messing said. "Hopefully, something will come up soon."
Johnson said one key is to consider the job search as a job of its own. Messing said she's found that isn't easy.
"It's stressful, it's really stressful," she said. "I'm not looking forward to moving back home with mom and dad."
Messing's college time is almost over, but Johnson said she can get help from Career Services at any time: it's free for alums.