Kennewick Police Patrolling for Loud Cars
Posted:
Updated: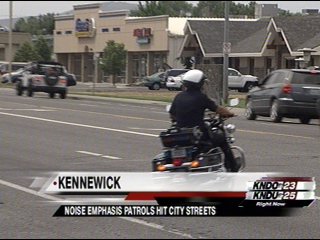 KENNEWICK, Wash-- The debate over noise violations in cars is creating some loud noise of its own.
On Thursday, Kennewick police officers were all throughout the city listening for loud music and modified exhaust systems. Officers say loud music means it can be heard from 50 feet away. And they're targting three hot spots: Clearwater Avenue from US 395 to Columbia Center Boulevard, roads in the Southridge High School district, and several blocks around Fourth Avenue and Vancouver. But officers are sending out a reminder--they're not here to nail you.
"What we're primarily looking for is the vehicles that have intentionally been altered to make them louder," explains Sergeant Ken Lattin. "Now, most of the time, people's mufflers just fall off, they didn't do that intentionally."

Still, get pulled over and you could be looking at a hefty ticket-- up to $350. And drivers appear to have mixed feelings on the emphasis patrols.
"I like it, the idea they're cracking down," says one woman.
"If it's in a residential area past a certain time, like 10, then I can understand. But if it's out on Clearwater and it's not too late at night, I think it's not really a problem," explains one driver.
"They've got more problems that they should be going after," adds a third.
The patrols will continue throughout the month. Police say they're specifically targeting the areas they frequently hear complaints from.