Suspect at Large After Intense SWAT Stand-off
Posted:
Updated: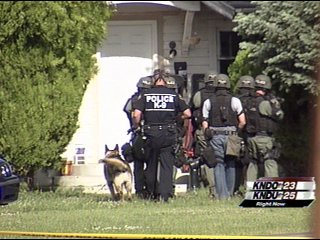 YAKIMA, Wash-- After a five hour stand-off the Yakima Police Department SWAT team comes up empty handed. Officers are now looking for Jesse Flores. He's a suspect in a drive-by shooting that took place earlier Thursday.
At one point officers had Flores on the phone. He led them to believe he was inside the home on Queen and 12th Avenue. Hours of tense stand-off followed.
SWAT members fired several rounds of tear gas into the home. Then knocked open the front door and released the police canine. But, to no avail Flores was not in the house as officers believed.
The stand-off started because an officer spotted the vehicle used in the drive-by shooting on South 18th earlier in the day. It was parked at Flores' home and covered by a tarp.
Flores is believed to be one of several suspects involved in the gang-related drive-by. He was identified by witnesses and also the victims.
A large crowd also gathered at today's stand-off, only compounding YPD's frustrations.
"I have a feeling that a number of the people that were here probably came down at his request to watch and see what was going on. He obviously knew he wasn't here," said Lt. Nolan Wentz, YPD.
Officers said three weapons were used in Thursday's drive-by. SWAT proceeded with caution while approaching the suspects house because Flores may have been armed.
Officers also said the victims of Thursday's drive-by were narrowly missed. Currently, YPD is searching for Flores, he's wanted for first degree assault.