Princess Principal Says Good-bye to Her Subjects
Posted:
Updated: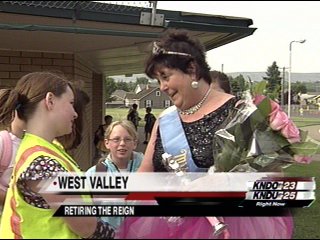 YAKIMA, Wash-- After years of service Karen Craig is retiring as principal at Apple Valley School. But, she's left her mark with a unique tradition.
It's not easy being the princess.
"You guys always got to check my teeth because I wear that lip stain and I need your help because I've got to be a beautiful princess," said Karen Craig, principal, Apple Valley School.
Craig has carried that title ever since becoming Miss Wapato in '68. On Friday's she welcomes her students in full regalia crown, sash, a magical wand and of course a beauty queen smile.

"Hi, you look very pretty, we're going to miss you," said one student.

The fifth grade students have loved their princess since kindergarten. They're still awed by her.
"She's still beautiful in it, that's all I have to say she's magical, she's wonderful," said Kiersten Hein, Apple Valley student.
"I've loved being in education, there's never been anything else I wanted to do," said Craig.
Craig said it was a difficult decision to retire. She's made bonds with generations of students. Dressing-up every Friday is just one tool she's used to connect with her subjects, or students that is.
"So when I get all dressed up like this they know that I may be a principal, but I do have a fun side and we like to have a good time," said Craig.
Craig hopes to spend time with her family and friends during retirement. But, she said it isn't the end of the pink tu-tu, she'll likely use it for Halloween.