A Tea Party to Celebrate Another Year of Reading Growth
Posted:
Updated: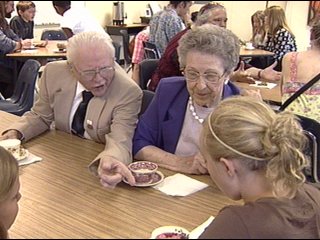 YAKIMA, Wash--- As students get anxious for summer break, one Yakima classroom celebrates their success with tradition and high class manners.
It's bottoms up in Christina Carlson's fifth grade class. Students wait all year for the last week of school. But, volunteers Bob and Bea Mason wait every week for Thursday, the day when they help students improve their reading skills.
"Well that's the highlight of my week," said Bob Mason.
Students meet one-on-one with Bob and Bea. They read stories out loud with a timer. Then they retell the story while Bob and Bea count the number of words they remember. Student progress is tracked.
At the beginning of the year Francisco couldn't remember what he read.
"And now that I've read with Bob and Bea. It really has improved my reading," said Francisco, 5th grade student.
"By quite a bit, I used to be at 117 and now 160," said Emily, another 5th grader. "That's great!" comments Bea Mason.
Tuesday students invited family and friends to celebrate with them.
The end of the year tea party is a celebration of all they've learned. It's also a chance to thank the volunteers and a good opportunity to practice their manners.
Mrs. Carlson brings in her grandmother's tea set. Bea contributes her well loved snacks.
Students line-up for their choice of coffee or tea and one round of sweets.
"We'd like to go back for seconds, but Mrs. Carlson won't let us," said Ali, 5th grade student.
Bob and Bea have been reading with students for four years now. They enjoy spending the time with young people. And it's clear the students have come to enjoy their company as well.
"They are very nice people if you get the chance to know them you're very lucky," said Ali.