High School Students Struggle to Find Summer Jobs
Posted:
Updated: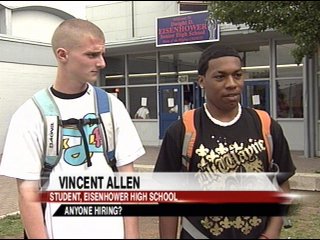 YAKIMA, Wash-- Schools out for summer that means plenty of teens who are ready and willing to do summer work. The problem is finding someone who's actually hiring.
"I have a job board and usually it's packed with opportunities in the summer, this year there's very few," said Paula Felton, head of the Career Center and business teacher at Eisenhower High School.
Carlos Mateo has a part time job already. He has car payments.
Donald Clayton is in a welding program at school. He's looking for jobs in that field.
"I've applied at a couple. I've applied at Mike's Welding and ASAP Fabrication," said Clayton, student, Eisenhower High School.
Felton has a stack of resumes in her office. She said students are qualified to work. They've been taught how to interview. But, if businesses aren't hiring it doesn't matter. Lexis Perkins decided to go to summer camp and visit family.
"Nobody's really hiring right now. I tried to get a job, but it hasn't really worked out that well," said Perkins, student, Eisenhower High School.
Other students have a month of summer school. After the month long summer session Vincent Allen is setting his sights on his senior year.
"I'm more looking forward to getting ready for football season this year. Since it's my last year hopefully go out with a bang," said Allen, student Eisenhower High School.
Students often return to Felton's office after extensive and unsuccessful job hunts.
"But, what they're finding is a lot of adults who have lost they jobs are taking jobs that are traditionally have been for kids. So it's tough out there," said Felton.
Felton does give this advice, if you can't find summer work take on an internship, volunteer or go to camp. Anything to boost your resume, then this Fall or even next Summer your odds will be better.