Stopping Summertime Crime
Posted:
Updated: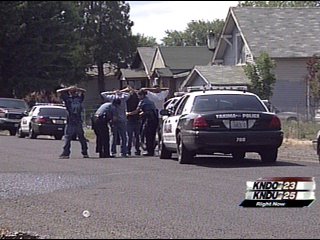 YAKIMA--School's out and it's too hot to stay inside. Many teens take to the streets for fun, but too many find trouble.
Hotter temperatures, longer days and more people on the streets.
Summer is one of the busiest time's of the year for Yakima Police.
"A lot of it has to do with the kids being out of school," Capt. Rod Light said. "You know they're going to do what they want to do."
Without school, kids have plenty of time on their hands ... And don't always have the best plans.
Light, the patrol captain, said more officers hit the streets at the same time high schoolers do.
"In the summer it is important to have a visible presence of police out there."
They see more violence, more vandalism.
"Taggings like this pop up a lot more often in the summer, but to keep kids from damaging other people's property, Barrios Unidos lets them spray on plywood."
Kids have to get their art approved by founder Alex Santillanes before they spray anything. Santillanes said most teens just need opportunities for clean fun.
"But if they're not invited, then they start making their own kind of fun" Santillanes said. "There's other kids who will get them involved in doing other things that are going to cause them problems."
More kids show up to Barrios Unidos during the summer. While having adult leaders is important, Santillanes said other teens are the best recruiters.
"They go tell their friend, 'What are you doing?' 'Ah I'm home bored.' 'Come on let's go over there and check out this program, see what I'm doing," Santillanes said.
While there are plenty of summer camps and activities to do, it needs to be something they like.
"You also have to get them involved in doing the planning," Santillanes said. "They're the ones that have to kind of have ownership of it."
But, even with options some kids will choose trouble. Light warns people to be ready.
"Be vigilant in your neighborhood, be observant," he said. "Establish Block Watch programs, and watch out for each other."
With support at home and in their neighborhood, Santillanes believes kids can and do make the right decisions.