Cougar Tailgate Party
Posted:
Updated: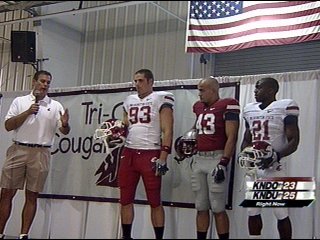 PASCO, Wash. --The annual Cougar Tailgate Party was Friday night in Pasco. Not only did the coaches come down from Pullman, but they unveiled new uniforms and also announced that a basketball game is coming to the Tri-Cities.
500 fans filled the TRAC, selling out the Cougars Tailgate Party for the 12th straight year.
"Theres no more passionate community than the Tri-Cities when it comes to people that follow the Cougs and are big supporters," says Cougar Football Coach Paul Wulff.
Eight Cougar coaches were there to greet the fans.
"It's kind of like bringing Pullman to the Tri-Cities, which always makes it feel like home," says Coug Fan Ryan Sullivan. "You spend so much time there in college, you miss it when you go away."
"It's really cool to come to and have some Cougar spirit and just cheer on the Cougs," says Coug fan Stephanie Zediker.
And even with an auction and a ton of other things to do, everyone was waiting for the new Cougar football uniforms to come out.
"It just keeps the consistency with what Washington State's all about," says Wulff of the uniforms. "It keeps the tradition and history of Washington State, and it keeps us new and up to date."
There was one other big surprise at the tailgate party. The Cougs basketball team will play against new head coach Ken Bone's old team, Portland State, on December 19th at the Toyota Center in Kennewick.
"I think it will be a lot of fun," says Bone. "It will be more exciting to play here than a lot of people realize."
Hopefully, the Cougs can take the passion fans showed Friday and turn it into more wins this year.