Terry Troxell remembered by Fred Farley
Posted:
Updated: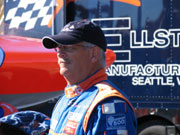 PHOTO: Karl Fortner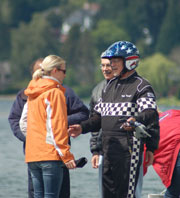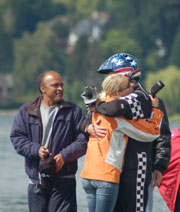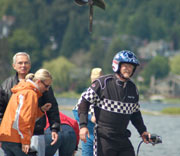 Terry Troxell remembered by Fred Farley

More>>

Saturday, June 13 2009 8:04 PM EDT

2009-06-14 00:04:49 GMT
By Fred Farley - ABRA Unlimited Historian

Unlimited hydroplane racing lost one of its most respected participants on June 13, 2009. Terry Troxell, the winner of the 2005 APBA Gold Cup with MISS AL DEEBY DODGE, passed away following a massive heart attack at his home in Gig Harbor, Washington. He was 61.

Terry didn't step up to the Unlimited level until rather late in his career, but it didn't take long for him to achieve the winner's circle.

A graphic artist by profession, a boat racer by avocation, Troxell handled high-speed hydroplanes for four decades.

He was related by marriage to the racing Weber family. His three brothers-in-law (Mike, Mark, and Steve Weber) and stepson (U-5 pilot Jeff Bernard) all drive power boats. He was the father-in-law of U-17 driver Kip Brown.
---
Son-in-law Kip Brown, driver of the U-17, reports the news of Terry's passing and pays tribute to his legacy. LINK >>
---
A two-time inductee into the prestigious APBA Hall of Champions for Limited inboard racing in 1997 and 1998, Troxell accepted his first Unlimited Class assignment in 2000 with the Fred Leland team.

Terry scored his first Unlimited victory in the 2001 Tri-Cities Columbia Cup with ZNETIX II when he outran second-place Dave Villwock and MISS BUDWEISER by six seconds in the Final Heat.

Troxell had the satisfaction of winning at the same eastern Washington race site where he had qualified as an Unlimited driver the year before.

Terry's 2002 season highlights included second-place finishes at Evansville, Madison, and Detroit with Leland's variously named U-99 entry.

In 2003, he took the wheel of Jim Harvey's MISS TRENDWEST, a new boat plagued with handling problems.

MISS TRENDWEST flipped upside-down at the Gold Cup in Detroit, but Troxell rebounded a month later to take third-place at San Diego.

As driver of the Ellstrom family's MISS E-LAM PLUS in 2004, Terry survived a very rough St. Clair River in Michigan to claim the St. Clair International Trophy, despite the battering wakes of ocean-going tankers in the vicinity.

The most prominent victory of Terry Troxell's career has to be his 2005 triumph at Detroit with MISS AL DEEBY DODGE in the APBA Gold Cup, boat racing's most coveted award.

Ironically, a week before the race, Troxell didn't have a ride because the team for which he drove didn't exist.

Owner Dave Bartush purchased the back-up hull of the temporarily inactive Kim Gregory team. The boat was trucked from Las Vegas to Detroit with one turbine engine and a few spare parts. There wasn't even time to repaint the hull.

Knowing that his equipment was severely limited, Terry ran conservatively in the preliminary heats, playing a waiting game and earning just enough points to qualify for the Final.

The 2005 Gold Cup was marred by accidents and equipment damage. For the running of the Final Heat, only three boats were available to answer the starting gun. Troxell and MISS AL DEEBY DODGE, after running under wraps all weekend, "let it all hang out."

Terry crossed the starting line first in the outside lane and pulled to a decisive lead over J.W. Myers and MISS E-LAM PLUS. Myers and third-place Mike Weber in FORMULABOATS.COM were never a factor.

"Detroit is awesome," exclaimed a jubilant Troxell. "This is the best drivers' course in all of boat racing."

MISS AL DEEBY DODGE, amazingly, was the oldest boat in the race, having been built in 1987 as MILLER AMERICAN. It had previously won the Gold Cup in 1988 as MISS CIRCUS CIRCUS, in 1991 as WINSTON EAGLE, and in 1994 as SMOKIN' JOE'S.

At the 2005 Seattle race, Terry had the opportunity to race against his stepson Jeff Bernard (who was making his Unlimited debut) in the Provisional Heat on Lake Washington. It was a wild affair indeed and brought the crowd to its feet. Bernard outran Troxell over the finish line by barely a boat length. It doesn't get much closer!

A minor stroke sidelined Terry in late 2005 but he returned to competition at the 2006 Chevrolet Cup in Seattle as driver of Leland's U-99.

In 2008 at the Tri-Cities, Troxell finished third in the Unlimited Light hydroplane race as driver of NUMERICA CREDIT UNION (UL-8)

He was always eager to assist new participants in the sport. In the words of son-in-law Kip Brown, "Terry was a mentor to myself and to many other racers across the country."

Boat racing will miss Terry Troxell, a great driver and a good friend.

*****

UNLIMITED VICTORIES:
(1) 2001 - Tri-Cities, WA
Columbia Cup
U-99 ZNETIX II

(2) 2004 - St. Clair, MI
St. Clair International Trophy
U-16 MISS E-LAM PLUS

(3) 2005 - Detroit, MI
APBA Gold Cup
U-13 MISS AL DEEBY DODGE