On Step Closer to a New Regional Aquatic Center
Posted:
Updated: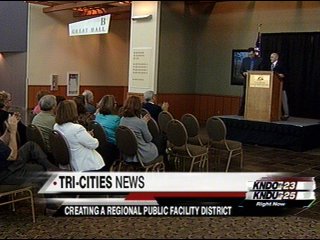 KENNEWICK, Wash. - Recent legislation was passed allowing the cities of Pasco, Kennewick and Richland to create a Regional Public Facility district.
They will be in charge of the plans for a new regional aquatic center and other facilities, but the outcome all depends on what the voters think.
Representatives Brad Klippert and Representative Laura Grant-Herriot were praised Monday for their work in making a public facilities district possible.
"My part in Olympia was being able to get the Legislation to allow all three of the communities to be able to vote on one project to work cooperatively together," said 16th District Representative Laura Grant-Herriot.
"With the super public facility district, it allows multiple public facilities to come together and pull their resources and now it's possible," said 8th District Representative Brad Klippert.
Three representatives from each city will make up the Regional Public Facility District with the purpose of creating regional centers like an aquatic center, a performing arts center and other facilities.
"That group is going to work out the specifics of what a facility might look like, what it might cost, and the process for where it might be located," said Matt Watkins, Chairman of the Regional Facility Oversight Committee.
A measure for a regional aquatic center won't be on a voter ballot until 2010 or even 2011.