Rockies send Ten Draft Picks to Tri-Cities
Posted:
Updated: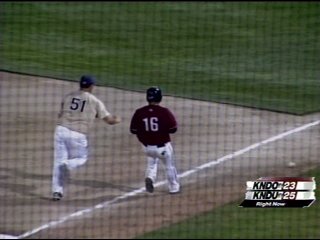 PASCO, Wash. - Ten rookies from the 2009 draft will be making their way to the Tri-Cities as they have been signed by the Colorado Rockies. Included in the group are fourth and fifth round picks Kent Matthes and Joseph Sanders.
Matthes, the fourth round pick, is a 6-2 outfielder out of the University of Alabama. He was named the Player of the Year in the Southeastern Conference. He was also named to the 2009 Baseball America All-America Team. During his senior season, Matthes batted .358 with 28 home runs and 81 RBI.
Sanders, an outfielder out of Auburn University will be reporting to the Dust Devils after a solid junior year. Sanders finished his last season with a .320 batting average and a career-high 19 home runs. He also had a team-high 55 RBI and his .737 slugging percentage on the season is the seventh-best in a single season at Auburn.
Two pitchers, from the ninth and tenth round, will be donning Dust Devils uniforms this year as Wes Musick and Charles Ruiz have been assigned to Tri-City. Musick, a left-handed pitcher from the University of Houston, finished his final season 5-7 with a 5.97 ERA. Ruiz, a right hander from Long Beach St., was named to the 2009 Big West Honorable Mention All-Conference team.
Other rookies reporting to Tri-City are Richard Testa, 18th round, pitcher, Lamar University; William Tarleton, 20th round, catcher, Elon University; Rhett Ballard, 26th round, pitcher, Virginia Tech; Daniel Perkins, 27th round, pitcher, Delaware St. University; Eric Federico, 39th round pitcher, Cal St. Stanislaus; and Matthew Sanders, 41st round, infielder, Clemson University.
The Dust Devils will be practicing from 1-4 pm this week in preparation for their three-game opener in Boise on June 20. The home opener against the Vancouver Canadians is June 23 at Gesa Stadium. The first pitch is scheduled for 7:15 pm with the gates opening an hour beforehand.