Yakima's Neighborhood Development Services Proposed New Anti-Graffiti Plan
Posted:
Updated: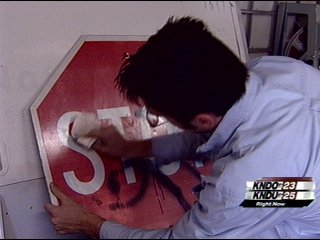 YAKIMA, Wash-- The City of Yakima painted over 457 graffiti tagging's in the month of May alone. But, some feel the patchwork paint jobs just look like an ugly band-aid.
"Well, if we have a trashy area we're not going to get businesses coming here so if they clean-up and we show a good united clean front then businesses looking at it will move here," said Brad Christianson, local business owner.
Christianson wants the community to have a sense of pride. So does Yakima's Neighborhood Development Services office, they've been battling graffiti for ten years now.
"What we're trying to do is get people to come back on board take charge of their property," said Archie Matthews, operation supervisor, Neighborhood Development Services.
Matthews has one staff member and a team of volunteers working to clean-up the entire city.
Tuesday night he'll share a new plan with city council. He wants to outfit homeowners with a graffiti clean-up kit. It would include paint removing chemicals and other tools to get the job done.
Several of the tools in the graffiti clean-up kit can be found in your hardware store. For example, steel wool, paint scrappers and high pressure nozzles. It may require a little extra elbow grease, but some say the end result is better.
Each kit would cost $12 to $15 dollars to put together and would be handed out once per household for free. City council must approve the plan before it can move forward.
"We give you the kit, say okay, here are the means to empower you to take care of your graffiti," said Matthews.
They are also looking at new technology to clean street signs and protect other surfaces. While the mess needs to be cleaned-up, prevention is still the best medicine.
"And if we know there's a neighborhood kid doing that maybe we just need to sit down and talk with him you know," said Christianson.
The City of Yakima and citizens are battling the problem on several fronts---prevention, clean-up and community pride. If you'd like to volunteer with Neighborhood Development Services call Archie Matthews at 575-6101.