Owner of Columbia Park Golf Course Awarded $3 Million
Posted:
Updated: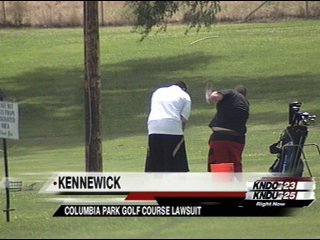 KENNEWICK, Wash-- A jury awards the owner of the Columbia Park Golf Course $3 million from the City of Kennewick.

Gary Long sued the city for breach of contract over an agreement for him to build a clubhouse and RV park next to the golf course.

After just two days of trial a jury voted unanimously to award $3 million to the owner of the golf course.

Long decided to sue the City of Kennewick over a contract with the city to build an RV park and clubhouse next to the Columbia Park Golf Course, then the city decided they didn't want it. The golf course leases the land, which is owned by the Corps of Engineers.
"He made numerous overture to try to get this case resolved and would have gotten it resolved for pennies on the dollar but the city never offered him any offers at all," said Nicholas Kovarick, Long's Attorney.
Some of the testimony heard at the trial came from four city council members, former Mayor Jim Beaver, City Manager Bob Hammond, and the director of municipal services.

The city attorney says their argument is the contract did not mean they could totally go ahead with the project.
"The Tri-River issue was their argument. The cities argument was if you look at the lease with the corps, the golf course lease with this company, the development option agreement, and you look at the facts and the legal effect of each of those documents, you can't but come to the conclusion that they did not have final approval for this project," said Lisa Beaton, Kennewick City Attorney.
As for the $3 million verdict, city leaders have not yet decided what they are going to do. However, Kennewick does not have insurance that will cover this.
"You know it's not like we are just going to cut a check for $3 million.
We are going to consider what our options are with the verdict we have. Obviously one of the options is appeal," said Beaton.
"The City Attorney Lisa Beaton said Mr. Long wasn't being reasonable and I said you haven't even offered a dollar and she goes okay we officially offer a dollar and it was that kind of arrogance that just permeated the city council and manager and all the way to the city attorney and the approach they took to this lawsuit," said Kovarick.
Long's attorney says he cannot develop the RV Park and clubhouse because the agreement with the city has lapsed. He also adds Long regrets he had to file a lawsuit to hold the city leaders accountable.