Downtown Yakima's Transition In Light And Color
Posted:
Updated: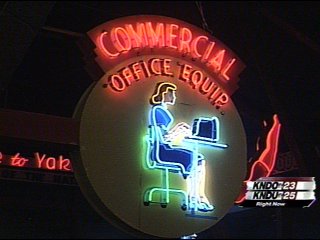 YAKIMA, Wash. - On a warm evening this week, downtown is well lit by street lights and filled with color by flowers. Fifty years ago, the scene was similar but with the help of another source for light and color, neon signs.
David Lynx is the Curator of Information Design at the Yakima Valley Museum where most of those signs are now housed.
"Neon signs were used everywhere," he says. "So you can get that feeling when you come to the museum and see the neon signs here, you can get a feeling of what it was like in downtown."
Most of the signs date back to the first half of the 20th century, a "Welcome to Yakima" sign greeted visitors at the Yakima Airport just a year before KNDO-TV was welcomed into the homes of residents in the Valley.
The museum's collection tries to emphasize the local story of a national practice by small businesses.
"You know there are several signs here that you might find in other cities but the Yakima Cycle Shop sign you can only find in one place," Lynx says.
One place in downtown is at the intersection of old and new. Sports Center Restaurant and Lounge keeps the fading trend of artificial light while the theme of natural beauty grows right outside.
Chris Malland is one of the owners of Sports Center, he says the restaurant's neon sign helps to keep their historical and retro image.
"It's really a tribute to the past to the downtown," Malland says. "I remember as a kid driving down Yakima Avenue with my parents and seeing all the different neon signs."
Dan Kelleher is the executive director of Committee for Downtown Yakima, which is leading the effort for a new theme in the area, beautification.
"Downtown is becoming a much more natural and beautiful, floral looking community," Kelleher said. "I think that the plantings and flowers are what dominate the look of our town."
This year the city has 325 hanging baskets and 1200 flowering baskets. Businesses are also decorating downtown on their own as part of a new initiative to show that they are blooming and booming.