Canceled Convention Costs Ellensburg Businesses
Posted:
Updated: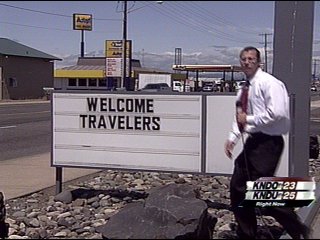 ELLENSBURG--Ellensburg businesses have fewer travelers to welcome this week after the Washington Initiative for Supported Employment (WiSe) canceled their yearly conference. It's the first time they won't be in Ellensburg since 1977.
Ellensburg hotels are normally filled this week, but the state's budget is tighter than ever.
In March, the convention for expanding job opportunities for people with developmental disabilities was canceled.
Gary Mabee runs the Inn at Goose Creek. Without the convention, he has to hope for walk-ins.
"We were sad because we need the business," Mabee said.
Mabee talked to other hotels to find out just how much tax revenue Ellensburg's missing out on. He estimates the damage done at $200,000; he calls that estimate "conservative."
"So when you knock 880 people out of the community having lunch, breakfast, dinner, using hotels, using the gift shop, Fred Meyer, everything else, it's huge," Mabee said.
The actual convention was held on the Central Washington University campus. Director of Conference and Retail Services Ken Baxter said CWU lost out on $75,000 when WiSe canceled.
"It's impossible to replace that kind of an activity in the summer," Baxter said. "It hurt us in the economic and from a standpoint of just having a summer schedule that works from group to group."
Baxter said the conference is one of the biggest events at CWU, but WiSe director Cesilee Coulson tells KNDO there probably won't be a convention in 2010 either.
With a big moneymaker gone, Mabee and other leaders have a plan to bring in new conventions.
An Ellensburg developer is building a convention center on this site that local business leaders hope will attract conferences to the area. It's slated to open in the fall of 2010.