Update on Seized Dogs
Posted:
Updated: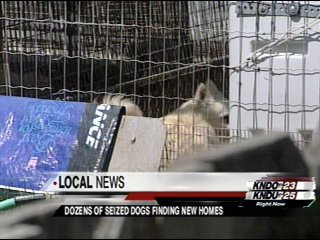 KENNEWICK, Wash-- It has been three weeks since close to 400 American Eskimo dogs were taken from Ella Stewart's alleged puppy mill.

The United States Humane Society had claimed all the dogs, then spread them to 10 northwest shelters.
Dozens have already found new homes including all at one Spokane shelterm 42 at the Oregon Humane Society, and 8 from the Blue Mountain Humane Society.
Blue Mountain is looking to adopt out 140 cats this Saturday. It is unlikely these dogs will be offered this weekend, because there's so much interest in them, and it's first come, first sold. But they come with a warning--they might be tough to train.
"They really are dogs with special needs," says Sara Archer of Blue Mountain Humane Society. "They're not potty trained, and they may present some unique challenges."
The shelter also says most dogs are purchased with the understanding this is still an ongoing case, and they may need to be checked by police down the road.
Still want to adopt? Try any of these 10 shelters the dogs have been given to:
Spokane Humane Society
Spokane County Regional Animal Protection (SCRAPS)
SpokAnimal Care
Blue Mountain Humane Society (Walla Walla)
Humane Society for Seattle-King County (Bellevue)
Benton-Franklin Humane Society (Kennewick)
Multnomah County Animal Control (Troutdale, Ore.)
American Eskimo Heart Bandits (Fresno. Calif.)
Oregon Humane Society (Portland)
Progressive Animal Welfare Society (PAWS) (Lynnwood)