Washington State Has Steady Growth in Clean Energy Jobs
Posted:
Updated: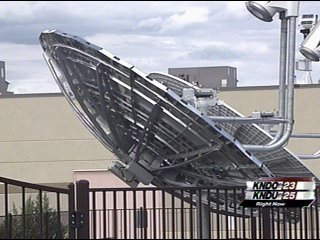 TRI-CITIES, Wash- A new report shows our state has a steady growth in green energy jobs, with more than 2,000 green businesses.

In 2008 investors put 50 percent more money into clean energy businesses in Washington. A major portion of that money came to the Tri-Cities.

KNDU talked to the CEO of Infinia, a solar energy company and Apollo a major contractor about growth in green jobs.
Many companies in the Northwest are starting to find that clean energy projects will make them more money. Apollo contracting has found they can adapt their business to include these new green technologies.
"We make money doing a construction project, so if it's a requirement we will make our fee building that project, but it really is the sustainable part that makes it fun for us," Dan Briscoe, V.P. Business Development.

To better meet those customer's green energy needs they created an entity called sustainable energy solutions. It helps them formulate construction plans around more environmentally friendly products.
"Higher energy use, better lighting, better windows, better use of on site transportation from not having to drive gas vehicles but maybe battery driven cars," said Briscoe.
One CEO says his Kennewick Company is going to surpass Microsoft and be the biggest company in the state he believes their technology, concentrated solar energy, will change the world.

"It's really exciting to see the company go from nothing to a world changing product it's really exciting to see how our employees are reacting to it, how our suppliers, and customers are reacting to it and now increasingly how the public is reacting to it," said J.D. Sitton, CEO Infinia.
Their building runs on this technology and it cuts out about a third of their energy costs. Another sign of our region's growth in clean energy, a big clean energy conference has opted to come here.

In February 2010 Climate Solution's Northwest conference on harvesting clean energy will be at the Three Rivers Convention Center.