D.O.L. Office seeing Longer Lines than Usual
Posted:
Updated: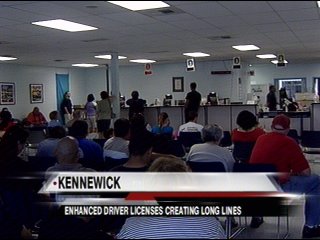 KENNEWICK, Wash. - Lines at the Kennewick Department of Licensing office on Clearwater Avenue are longer than ever, and D.O.L. representatives say the need for enhanced driver's licenses is to blame.
D.O.L. District Manager Pamela Byrd says Summer is the busy time of year anyway, but the high demand for the new I.D. is creating long waits.
The deadline to have the new enhanced driver's license to cross the U.S. border by land or sea, was back on June 1st.
In May, about 800 people came in to get the enhanced driver's license, compared to only 200 in January. The numbers continue to increase.
Bottom line, avoid the Kennewick D.O.L. office for now, if you can.
"If you're not planning on traveling out of the country, come back in the Fall, when it will hopefully calm down a bit and the wait would be much shorter," said Pamela Byrd, D.O.L. District Manager.
After hours of waiting in line, many are told to come back because they didn't bring the right documents.
Byrd says if you're planning on getting the enhanced driver's license and you have a regular Washington license, you'll need a certified original birth certificate, proof of residency and a certified copy of your marriage certificate if your name changed. A passport will work in place of a birth certificate if you have one.
Byrd recommends going to the D.O.L. website at www.dol.wa.gov before you go to the office and make sure you have everything. We've set up a link to their website on our website, just search under the "On-air links" tab at the top of the page.
Byrd also recommends renewing your regular license online to save you the hassle of waiting in line.
If it's necessary to come into the office, avoid coming on a Tuesday or a Saturday. Mornings are the best time of the day to come.