Lower Valley Highway Project Will Improve Roads and Boost Local Economy
Posted:
Updated: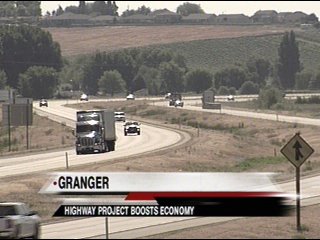 GRANGER, Wash.- Local construction company Granite Northwest and the Department of Transportation are preparing for a $6.5 million highway project, aimed to boost the economy and improve roads. This highway project is a part of the Federal Recovery and Reinvestment Act.
Thousands of cars use I-82 everyday, wearing and tearing pavement, leaving cracks like this one. Now, federal funds are paying for Granite Northwest and DOT workers to fix this problem.
"If the road breaks up people travelling won't travel as much so to make a smooth safe road is important," said Paul Gonseth the project engineer.
Its not just travelers that depend on these roads, hundreds of freight trucks use I-82 to pick up and drop off loads.
This week, workers started looking over the plans and discussing how to best improve highway conditions from Grandview to Granger.
"By doing this we will extend the road life for another 15 to 20 years so we don't have to tear out concrete and replace it basically a big savings to the state," said Gonseth.
Another perk, more employees were hired to do the construction work, putting over 20 unemployed people back to work.
"The wages are set by the federal government so wages are good for the area and the work is of a duration which should be beneficial," said Bill Burton the project manager.
More than 50 employees will fill holes and smooth out the pavement on these roads, and in this economy, employees say this project is a relief.
"Public and private construction has taken a very hard hit," said Burton.
But for the next few months, these employees won't have to worry. Road improvements should be completed by mid-October.