Summer Stretching Brush Fires Thin
Posted:
Updated: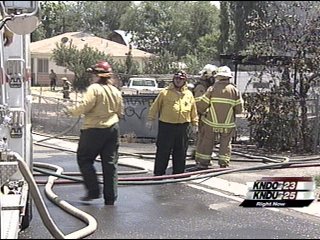 YAKIMA VALLEY--Fire departments are getting stretched thin after three fires Wednesday in Yakima County. Fire captains say conditions are ahead of schedule and we aren't even in the busiest part of the season yet.
"Here in Tampico, a mix of volunteer and paid firefighters is keeping yesterday's brush fire from getting out of control. But the volunteer aid is a benefit not all stations have."
Brian Vogel is chief of Fire District 5 in the Lower Valley. His department covers more ground than any in the state.
"We cover a little over 700 square miles," Vogel said. "We only have 14 paid firefighters, so we are predominantly volunteers. Today, we're right about 180 volunteers."
That's down from 300 volunteers when Vogel joined the department in the 1980s. They're stretched extra-thin during the day, when most of their volunteers are working.
"Employers aren't as likely to allow their volunteers to leave work like they used to, to go when the alarm goes off."
One volunteer said they need help the most during the busy--and hot--summer.
"People get tired," Matthew Guerra said. "The more people we have, the less burnt out everybody will be."
Guerra followed his dad and grandpa into volunteering. He's honored to help out.
"Other people's live are put in your hands," Guerra said. "It's not every day that everybody gets that responsibility."
The West Valley Fire Department has to turn people down.
Captain Christy Boisselle told KNDO they had 18 people apply for 15 volunteer positions, but they're the exception.
Vogel's worried what might happen if volunteer numbers keep dropping.
"It takes volunteers to run a fire department like what we have," he said. "Without volunteers the alarm might go off and nobody shows up."
Fire District 5 has two different volunteer training programs, one that meets twice a week for two months and another that lets you go at your own pace.
If you don't live in District 5, you can call your local fire department if you want to help. Almost all need volunteers.
Investigators blame an illegal burn barrel for Wednesday's fire in Wapato, and think a downed power line caused the fire in Gleed.
Marshals still aren't sure what started the brush fire in Tampico.