Apartment Shooting Gang-Related
Posted:
Updated: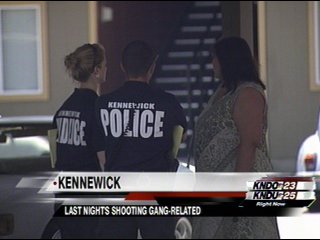 KENNEWICK, Wash-- One day after a late night shooting at the Kamiakin Apartments in Kennewick that sent two teens to the hospital, investigators are back on the scene. Now they're calling this gang violence.

"The reason we know this is a rival gang is because the shooters shouted some words we can't repeat on air that are gang related and signal 'yes, we are a rival gang member,'" says sergeant Ken Lattin with the Kennewick Police.
Police have made no arrests. There is no description of the suspect(s), just word of a light colored SUV. It is an investigation now plagued with questions.
"Clearly both these guys shot last night don't live here," adds Lattin. "Why are they here? Who are they hanging out with? Do the property owners want people who don't live here and aren't really visiting anyone specific just hanging out? We're here to help."
That same property owner wouldn't talk with us on camera, but tells KNDU anyone found to be involved will be evicted. Extra patrols are also possibility.
Meanwhile the question of safety was the hot topic around the complex.
"I feel safe," says one tenant. "I'm not that scared, but when you have kids in the complex and you have gunshots in the complex, it's not good."
But for some, the shooting is reason enough to leave.
"It was horrible, something I've never experience and don't wish it for nobody," says one mother who wishes to stay anonymous. "[I'm going to] try to look for something else, get out of here."