Vancouver Gives Tri-City first Loss, 5-4 in 11
Posted:
Updated: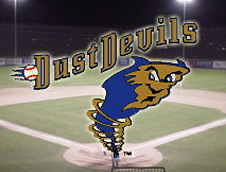 PASCO, Wash. - Tri-City Dust Devils (5-1) were unable to pull any late-game heroics and fell 5-4 to the Vancouver Canadians (3-3) in extra-innings Thursday night. Both teams struggled to gain separation in the later innings, but Vancouver was able to put an end to a close, tense contest.
The game started well for Tri-City when Tim Wheeler singled to right-field with one out. Wheeler then stole second to put the Dust Devils in position to score. Scott Wheeler then hit a line drive single to send Wheeler in and put Tri-City up 1-0. The Dust Devils kept the pressure on and looked to be in good position when Wheeler came up big again with a 2-run scoring single inn the third-inning.
A three run lead would not be enough for the Dust Devils as Vancouver began to make progress in the fourth. Starter Sheng-An Kuo walked the lead-off batter and rookie Anthony Aliotti was able to get on base with a single. Kuo was replaced by Ricky Testa and two runs scored to make the contest 3-2.
Both teams struck in the sixth-inning with Vancouver tying the game. Michael Gilmartin scored on a double by Jose Crisotomo making the score 3-3. The Dust Devils took the lead in the bottom of the inning when Dallas Tarleton drove in Kent Matthes. The Dust Devils stranded two runners that inning as pitcher Daniel Straily worked himself out of a jam.
With the score tied in the bottom of the ninth, it looked like the Dust Devils would again pull out a win. Tarleton started the inning off with a double and was advanced to third on a sacrifice bunt by Alex Feinberg. But things went awry as Tarleton was caught stealing home on a failed suicide squeeze play.
Tyreace House scored the winning run for Vancouver on an error. The Dust Devils were unable to get anything started in the bottom of the eleventh as they went three-up and three-down. Nathan Long (1-0) got the win for the Canadians and Kyle Walker (2-1) took the loss for Tri-City.
For more information or to order tickets, please call (509) 544-8789, or visit us on the web at www.dustdevilsbaseball.com.
Dust Devils Baseball...Cooler than ever!