CWU Looking to Employees to Cut Budget
Posted:
Updated: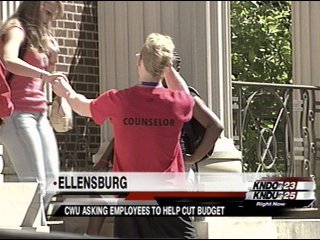 ELLENSBURG--Central Washington University loses nearly $8 million in state funding on July 1. CWU President James Gaudino unveils his plan to cut costs without cutting jobs.
This e-mail asks full-time employees to consider two options: take a voluntary two-week unpaid vacation, or donate to the university.
That's in addition to a hiring freeze. The hope is that those movements are enough to keep from cutting jobs.
CWU will use reserve funds to fill their first $4 million gap, but that still leaves another four million to cut.
Gaudino will practice what he preaches, taking two weeks without pay and donating to the CWU foundation.
He hopes other people will follow.
"A person can give as little as one dollar and be contributing," Gaudino said.
Most staff on-campus Friday weren't sure how or if they'd chip in, but students we talked to liked the idea.
"If people have the ability and they're at the financial place where they can take two weeks off, I think it's great," Bethany Vierra said. "It's a good thing when people can sacrifice to give to the greater good of the community."
Gaudino is hoping the university won't have to force staff to take an unpaid leave, and he doesn't want to lay people off.
"The ultimate goal is not to deteriorate the experience we give our students," Gaudino said. "That means keeping faculty and staff on the campus."
He's not sure if that will be enough.
"The deeper the recession hits and the larger the cuts, I'm becoming less optimistic that we'll be able to manage without staff reductions."
Right now, 45 open positions aren't being filled. Gaudino expects that number to go up to 80 by the end of the year. But, the university will fill crucial positions if they open up.
CWU will keep tightening its belt. Gaudino said the governor told him they're looking at a two-percent cut in a supplemental budget, if not more.
Gaudino thinks having more students is key. He wants to get enrollment up from 9,100 to 11,000.
But to do that, they'll probably need more faculty.