New Charges Against Woman Accused of Mistreating Dogs
Posted:
Updated: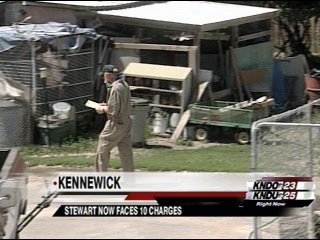 KENNEWICK, Wash-- New developments in the state's case against Ella Stewart, the Kennewick woman accused of mistreating dogs. Police found close to 370 American Eskimos living in what they say were deplorable conditions.

Sstewart now faces nine counts of second degree animal cruelty and one count of first degree animal cruelty, which is a class C felony.
"Class C felony is a felony punishable by a maximum of five years," explains Terry Bloor with the Benton County Prosecutor's Office. "In Washington state, we have 3 levels of felony, and class C is the lowest."
In total, the 10 charges could add up to 14 years behind bars, but prosecutors aren't convinced she'll get the maximum sentence. They are convinced, however, it sends a message.
"In this case, there are allegation of mistreatment upwards of 300 different dogs. The area where Miss Stewart lives was certainly impaced, the neighbors around her were certainly impacted," says Bloor.
The additional charges come weeks after the dogs were removed from the home. Prosecutors say they needed more time for vets to examine the dogs before they knew what to charge her with.
KNDU stopped by Stewart's home Friday afternoon. She invited us in, but wouldn't talk on camera. In our 30-minutes together, she says she's shocked to learn of the charges. She adds she thought everything would be put behind her once she gave up her pups.