Tri-City Beats Vancouver 8-3, Improve to 6-1
Posted:
Updated: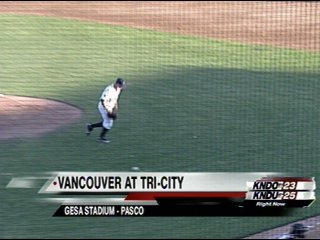 PASCO, Wash. - The Tri-City Dust Devils had struggled at the plate in their last two games after a great start in Boise. Tonight, the bats began to pop again as the Dust Devils defeated the Vancouver Canadians 8-3. The game was highlighted by a three-run home run by first-baseman Michael Zuanich.
The Dust Devils got on the board in the second-inning. Matthew Sanders singled on a ground ball towards second-base with one out to get Tri-City started. Leonardo Reyes struck out swinging, but a wild pitch by Ricardo Penalba allowed Sanders to advance to second-base. Austin Rauch drove Sanders in with a double to make the contest 1-0.
That was just the first of three innings in a row which produced runs for Tri-City. In the third-inning, with one out, Shane Lowe was walked and went on to steal second and third bases. Zuanich was then walked to put runners on first and third. Scott Beerer singled to center-field to drive Lowe in and Beerer advanced to third. A single by Matt Sanders scored Beerer to make the game 3-0. Leonardo Reyes scored Scott Beerer on a short ground ball to score the final run of the inning, making the score 4-0.
In the fourth-inning, Jeremiah Sammy started things off for the Dust Devils with a line drive to center-field. Joey Wong moved Sammy over to second with a sacrifice bunt. Shane Lowe was again hit by a pitch and Vancouver went to the bullpen to bring in Juston Street. Street started off well by striking out Tim Wheeler, but Zuanich was able to deliver with two outs. He hit the first home run of the season for the Dust Devils to make the score 7-0.
Vancouver made a run in the fifth and sixth innings and made the score 7-3, but the Dust Devils were relentless and scored another run in the eighth on a line drive by Lowe.
The win puts the Dust Devils at 6-1 on the year and first place overall in the Northwest League. Starting pitcher Matt Baugh went four innings and struck out eight batters. Eric Federico picked up the win for the Dust Devils who had eleven hits to back up the pitching staff. Zuanich was 1-3 on the night with three RBIs and two runs. Sanders and Beerer were both 2-4 with one run and one RBI apiece.