Oldest National Champion not ready to retire
Posted:
Updated: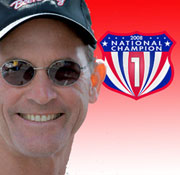 MADISON, IND. -- With young American Power Boat Association drivers like Jeff Bernard rising fast, it's easy to underestimate experience. Or fitness, for that matter. But at age 55, when most drivers, battered and bruised have retired, Steve David is still racing strong. Both against his competitors and his race against father time.

The oldest national champion in sports history, David attributes his racing longevity to a conditioning program he adopted more than 40 years ago.

"I began my fitness routine in junior high school because of the swim team requirements," David said. His coach was former US Olympian and fitness guru Jack Nelson.

David works out every day focusing on upper body, legs and cardio. His goal is to get his heart up to 170 beats per minute a two minute intervals during his gym cardio workouts. "That's about the heart rate during a race qualification heat running deck-to-deck," David said. "The body isn't strained if it's already been there."

Most of his muscles are used in the turns and about a third of the way down the straight-away because the boat wants to continue to turn as a result of its momentum. "In well handling unlimited hydroplanes the straightaway is pretty relaxed so it's seconds of ease and then seconds of all of your strength," David said.

"Being tightly seat belted in you essentially becomes one with the boat. Whatever the boat feels, you feel. The boat absorbs the initial hit and then transfers it to your body.

David's workouts are year round, six days a week. He alternates between weights and cardio and walks at least 45 minutes a day. Just as you would expect from a race driver, he has walking pace converted into miles per hour, a 4.3 mph.

Team manager, Charlie Grooms said, "He is 55 but he has the mental and fitness level of a 30 year old. He is in better shape then most 30 year olds I know."

David credits his longevity to his daily workout routine, diet and lifestyle. His lifestyle includes "happiness, good family life, successful business, surrounded by competent people, plenty of exercise, and rest."

He knows there will come a time when he "might not have it," and the ills of aging will affect his performance, but it will not be because he is not working out.

David tried retiring after the 1999 season to spend more time in the Bahamas and Florida Keys on his yacht but as David said, "There is just something about going deck-to-deck with six other boats at close to 200 mph and then turning left together."

Now he divides his time between his real estate business, personal boating and racing and the balance between them is working great.

One thing is for certain; his burning passion for unlimited hydroplane racing hasn't diminished with age.

2009 Schedule:
July 3-5, 2009 Madison Regatta's Indiana Governor's Cup, Madison, Ind.;
July 10-12, 2009 Chrysler Jeep Superstores Detroit APBA Gold Cup;
July 24-26, 2009 Lamb Weston Columbia Cup, Kennewick, Wash.;
July 31-Aug. 2, 2009 Chevrolet Cup at Seafair, Seattle;
Aug. 8-9, 2009 Kelowna Hydrofest, Kelowna B.C.;
Aug 21-23, 2009 Thunder on the Ohio, Evansville, Ind.;
Nov. 12-14, 2009 Oryx Cup, Doha, Qatar.
Oberto Sausage Company founded in Seattle in 1918, is one of the nation's top beef jerky producers and meat snack food brands. For more than 90 years, three generations of the Oberto family have been making fine quality meat snacks while living up to the company motto - Have Fun! Oberto products are available online and in convenience, grocery and mass market retailers nationwide. Oberto's goal is to continue to develop new products to meet the demands and desires of today's customers. Oberto offers a tradition of quality you can taste! Come join the fun at www.obertosausagecompany.com or www.eatlikeanalpha.com.

Miss Madison Racing began in unlimited hydroplane racing in 1961 when industrialist Sam DuPont donated his hydroplane to the city to help promote tourism and their annual regatta. The race team is the only community owned race team and is the oldest continuous running team in sport, now in its 48 year. In 2005 a major motion picture, Madison based on the race team and town was released.