Survivor of Plane Crash Expected to Make Full Recovery
Posted:
Updated: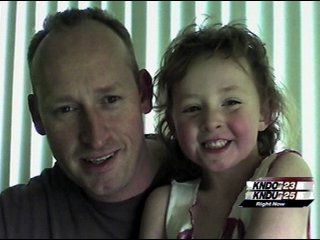 RIMROCK, Wash--By all accounts Julie Reed is a fighter. She's the only survivor of a plane crash that killed her father and half-brother.

The small Cessna aircraft caring the family went down near Rimrock Lake, it happened around 3:00 Sunday afternoon. Julie was alert and talking when rescuers pulled her from the wreckage.
Neighbors say Julie is a busy five-year-old.
"I know Julie because she used to run up and down the side walk all the time," said Mitchell smith, neighbor.
Julie is currently at Harborview Medical Center with her mother Natisha Reed by her side.
Natisha was driving up Highway 12 to meet her family at Rimrock when the plane crashed. A statement from the family said surgeries to fix fractures in Julie's legs went well.
The plane was a four seater, single engine. Julie was riding in a car seat in the back row of seats. Justin Reed, the pilot and his 13-year-old son, Parrin, were in the front. Investigators are on scene Monday searching for clues.
Tieton State Airport is a tiny grass and dirt air-strip used by recreational pilots. Investigators said this is where the plane was trying to land. However, the pilot overshot by about a 1/2 mile, clipping the trees and landing on the ground.
The National Traffic Safety Board is overseeing the investigation. Today they're documenting the crash site and pulling evidence.
"And depending on what we find we'll be able to remove the aircraft to a secure location and more than likely continue to the investigation there. As you can see it's fairly treacherous right now," said Elliot Simpson, air safety investigator, NTSB.
The plane came to rest about 50 feet down a ravine. Simpson said it will be cut to pieces tonight and removed. But, the investigation will take much longer.
"Looking at his Web site records on the FAA Web site it appears that he's been flying since the beginning of last year," said Simpson.
It could be up to nine months until conclusions are made about the crash. Justin Reed's friends said he was excited about flying and a devoted father. Julie is expected to make a full recovery.
A fund has been set-up to help pay for Julie's medical expenses. Doctors are not sure when she'll be able to return home. The account is at Yakima Federal Savings and Loan. It's called the "Julie Reed Benefit Fund."