Renting Fun on the Water in the Tri-Cities
Posted:
Updated: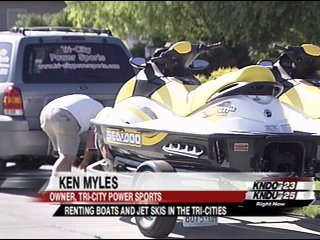 RICHLAND, Wash - There is a lot of fun to be had on the water in and around the Tri-Cities and thanks to some new businesses you don't have to be a jet ski or boat owner to get out and enjoy yourself.
That's where people like Ken Myles step in, owner of Tri-City Power Sports. This is his second summer in the jet ski rental business.
"I talked to a few of the dealers around and they're like 'oh you know I get like 20 or 30 calls every week of people looking to rent for a day or for a weekend. We really need somebody that's missing a few brain cells who wants to get into business for themselves,' so I volunteered," Myles explains.
Customers can come and pick up a jet ski or Myles will deliver it to them. Renters are required to watch a 15 minute safety video from the State Watercraft Safety Commission and must be at least 18 years old.
Pacific Shorz Power Sports is the only other jet ski rental business in the Tri-Cities and they run out of Howard Amon Park in Richland. They too have been open for business for two years.
People who want to head out on a boat have the Boat Club as their only option. Depending on the annual membership fee you pay you can take one of seven different boats out several time during the summer.
"Boat Club really came about based on a friendly discussion we were having. We were out at Howard Amon Park and the river was in the background. It was a hot day and someone said 'you know, you should get a boat and let me use it," says Vanessa Moore, Cofounder of the Boat Club.
Each member of the club is required to take the State Boater Education Course during the first year of their membership.
Not everyone can afford to own a boat or jet ski, but at least in the last three years alternatives have become available locally.