Newest Council Member and Former Mayor Bring Different Perspectives to Council Race
Posted:
Updated: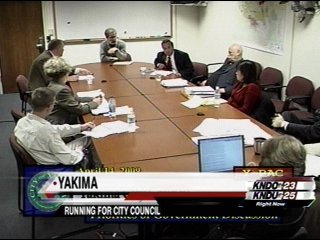 YAKIMA, Wash.- Candidates for Yakima City Council are already campaigning for votes. Former mayor Paul George is running against the newest member Maureen Adkison.
Yakima city council members were in the spotlight. First, for a council members resignation and then for a lawsuit involving four members.
It's what's prompting former mayor Paul George to get involved again.
"That's not what we need at city council and that conduct will result in lots of changes at city hall this fall," said George.
George reflects back to the city council during his term. He believes too many things have changed but he has a plan.
"Getting back to basics at city hall openness, trust and respect for the city charter," said George.
George is running against council member Maureen Adkison who was sworn in last month and serves on the budget committee. Adkison says she welcomes change.
"We're not just agriculture anymore or apples, we're apples, grapes and we're doing more on tourism and I think it's exciting and want to be a part of that," said Adkison.
Regardless, both candidates agree that public safety is a big concern in Yakima. They just don't agree on where the money should be spent. Adkison voted against the EMS levy.
"We can look at it again, anything that will improve the community, but the community voted against it begin with," said Adkison.
"Other cities the size of Yakima have it and I think a place of this size needs it, the community wants it," said George.
Both candidates plan to start campaigning later this summer for the November election.